THRIVE PAST 45
3 days of yoga, reflection, psychology and fun!


Venue : Lakeside Primary School, (near the Racecourse)
10 AM TILL 4 PM
How can we age and stay feeling full of the same energy and vibrancy we had in our 20's and 30's?

How can we retain, or even improve our flexibility, strength and balance
DESPITE advancing years?
Join me for a summer series of yoga workshops/retreat days over a 6 week period.




(and a challenge if you're up for it!)
TO FIND OUT ALL YOU NEED TO KNOW ABOUT THESE RETREAT DAYS CLICK HERE
What else you might need to know:
No matter what your experience or current capability we want you to feel gently challenged, stimulated but not left out or behind! I passionately believe yoga is for EVERY body - this is NOT about gymnastics or allowing our egos to push too far which is far removed from the true spirit of yoga philosophy.


Frequently asked questions:
Will we be doing physical exercise all day? I don't think I can cope!
No! The morning sessions are a little more energetic, with routines which will stretch you whatever your level, but the afternoons are a calmer affair (oyu need to allow lunch to settle after all!); with a focus on mindfulness/meditation, restorative yoga and deep relaxation in the form of Yoga Nidra.
Do I have to be over 45?!
No! But if you're looking for a day of power/Ashtanga yoga - then this is probably not for you!
I have back pain and am worried a full day might be too much for me.
I get asked so many times by students who have specific health issues if yoga will help, or hinder their healing. There ARE some techniques and postures which are contra-indicated for certain conditions, and we'll let you know if that's the case.
However, as mentioned above, this is not a full day of vigorous movement. You will learn how you can adapt poses so you can do them safely; or where it's best you don't do a specific pose, you'll learn alternatives, or how to use that space to allow your body to relax.
And if you do have specific concerns or health issues, mention to your GP what you are thinking of doing - and see what he/she says. In most cases, yoga (and pilates) is one of the few things doctors will recommend you do take up.
The truth is - NOTHING is worse than not moving at all. You're guaranteed to seize up.
Anyone who knows me knows I am passionate about staying healthy for as long as we are able. Yoga teaches us how to take care of our bodies, our minds and our spirits. I cannot think of anything more important, if we are to fully live our lives without being hindered by ill health.
And if you have any further questions - please do just get in touch.
You might also like to know.......
This is my 17th retreat day - but the first I've run as a series of retreat days run so close together.
It's a chance to pull together my passion for psychology, personal growth, coaching and ageing well, into a journey I hope will leave you feeling inspired, refreshed and understanding how YOU can squeeze EVERY bit of juice from YOUR life - no matter how old you are!!


The picttures below give you some idea of the day.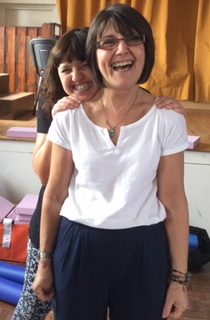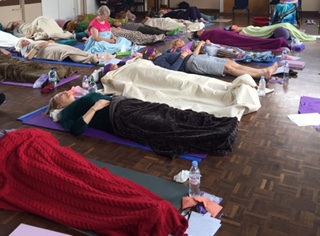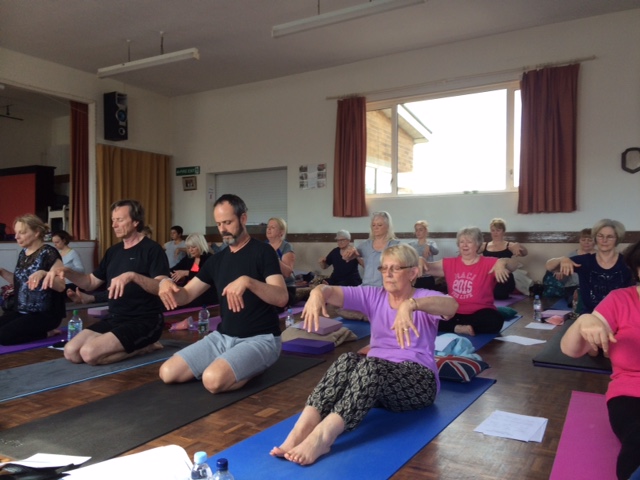 What did our students say?
You can see some of the testimonials below or on the scrolling box to the right.
Excellent workshop. I thought some areas would be above me - but this was not the case. No one was made to feel inferior or inadequate and the knowledge of the trainers was very good. This workshop exceeded my expectations.
Lorraine Hessel
Really enjoyed the relaxed atmosphere of the workshop.
Sue Penn
Being a beginner I walked away with some knowledge of yoga and keen to learn more from future workshops!
Andrea Simms
I really can't think of anything you can improve on. This workshop exceeded my expectations. Really enjoyed the variety of sessions; learning and practisingYoga Nidra and I learned lots of tips! Just a big thank you Shona and Carmen!
Sally Davies
This workshop exceeded my expectations! Shona and Carmen worked very well together and there was a relaxed and friendly atmosphere allowing for different levels of ability.
Jackie Powles
Wasn't sure what to expect but the workshop was very well thought out and flowed really well. Amazed what we managed to cover in the time. Great range of props available and felt free to experiment with them. Really enjoyed being introduced to new parts of yoga and it was really nice to have 2 different teachers with different experiences and voices. Yoga Nidra was great! Nice to have time for things we don't have time for in class. Wish these were more regular - every month please!
Jackie Gumsley
I felt so totally relaxed and at ease afterwards, especially as I have suffered from depression.
Val Hibbert

A very informative, inspiring and varied workshop! Loved the Yoga Nidra and the joint freeing exercises! lunch looked amazing! A great day! Excellent! I will try and practise what I learned!
Maggie Evans
Brilliant!! My first ever workshop - and not my last! Loved the relaxation and meditation! A new experience for me. Only thing that would have made this better is if it were two days instead of one!
Sandra Lorking
Just a BIG thank you for today! It took my yoga practice where it has not been before - the depth amazed me. The day was a perfect combination - more mantras and meditation please but not forgetting core strength activities. Loved the dancing warrior! Great modifications and challenges given. It was lovely to meet other, like-minded people and loved the yoga "buzz" at the end! Loved the cymbals! Loved the food - may even give vegetarianism a go!
Can't wait for the next one! See you then!
Julie Viccari
Made me feel accepted and comfortable within my limitations. Loved meeting others, the scented candles and your approach which was friendly, accepting and encouraging. Lunch was very good!
Maggie Bethell-Harrison
Thank you both for a lovely day. The workshop was much more than I expected.
Chris McMurdo
Enjoyed the combination of exercise and relaxation. Really enjoyed the day.
Denise Hanson
Very balanced - and as a novice, very enjoyable! I thought the routines were well explained and I particularly loved the meditation and Yoga Nidra.
Gail Tomkins
I enjoyed all of the day - but the Yoga Nidra was wonderful!
Sue Ryan

Come over to Grimsby please!! Thank you for a great day!

Lauren Blanchard

Really enjoyed everything about the day. A very good variety and excellent information from really knowledgeable instructors.
Sharon Barker

For details of this June retreat and to reserve your place go to:

Have any questions you want answering before you book?
Please contact us on 01302 865253 or 07904 262877 or complete the CONTACT FORM with your questions.
Save